Virtuality
By admin on Sep 1, 2010 | In Human Survival, Virtuality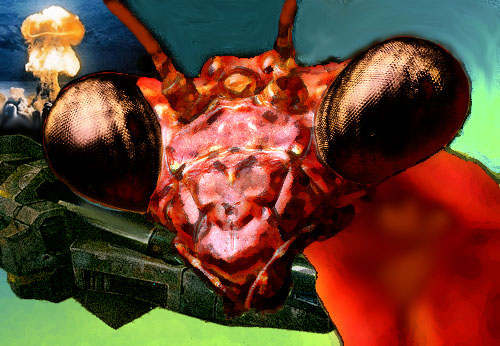 The Na'Han
Zane Pax hid behind a large bolder as the black alien warship flew overhead. Na'Han had swarmed the cities of the world laying waste to human civilization. Humanity was on the endangered species list, on our way out for good.
The Na'Han were red insectoids with black compound eyes whose home world was somewhere inside the Milky Way's galactic core. That's what they originally communicated, in every language known from their ships in Earth orbit when they first arrived. They notified us that the Earth was now their property, like some bad two-star Hollywood science fiction movie, then they began systematically exterminating us. We know little else since all communications stopped. Their weapon technologies are literally light years ahead of ours and they ignored all our desperate pleas for surrender.
Zane had been extremely lucky to get out of San Francisco before the city and all its inhabitants were consumed by a horrible alien nanoweapon. Small replicating machines took hold so fast that nothing could contain them except the intense heat of exploding nuclear weapons which incinerated everything. Waves and waves of them spread everywhere consuming everything in their path. Converting all usable atoms into more machines who's only purpose was to consume and construct more machines. Then when the entire radius of a city was consumed they all turned themselves harmlessly into course sand.
Short wave radio broadcasts reported that all the world's populous cities suffered this same fate. The rest were destroyed by our own nuclear weapons launched in a desperate attempt to find something that could stop them. As a result the Earth's skies were now darkened with fallout and radioactive soot kicked up into the atmosphere. The human population was now minus 6 billion lives and the alien invasion nightmare was real and still happening.
All Zane had now was your standard laser pulse rifle and a few rations he had scavenged off a dead soldier's body. He drove on back roads into the Sierra foot hills until his gas ran out avoiding all populated areas. Cell phone, Television and Internet were the first to go. Radio broadcasts had all gone dark as the Na'Han invaders located and destroyed transmission sources.
The alien spacecraft flew just above the tree tops. Parts of its surface was reflective and smooth, while other areas were covered with complex and delicate looking instrumentation. The last and final radio broadcasts had suggested targeting these areas. The vessel began circling back, having spotted him.
A weapon blast from the alien ship hit the bolder face, shattering it and throwing Zane backward hard, knocking the wind out of him. His leg was caught as the remainder of the bolder rolled trapping him. He recovered, raising the pulse rifle and firing desperately at some of the ships supposed sensitive parts. His shots showed no effect, so he continued firing again and again at the same spot. His weapon began beeped warnings it would overheat. Ignoring it, he continued to fire. Then the rifle stopped firing on its own. It was now uncomfortably hot to his touch, but he still wasn't letting go.
That's when he realized the ship wasn't firing back and it began to angle downward as the engine roar increased to a very high pitch whine. It looked like he damaged it somehow. It was going down, it was!
Crashing into the ground hard not more than 25 yards from him the vibrations rolled the shattered bolder quickly back, long enough for him to free his trapped leg. His leg was painfully bruised, but not broken. For a second Zane Pax felt a glimmer of hope return. Then his VR goggles crapped out.
A loud sharp pop hurt his ears then he felt painful micro-shocks ripple through his body suit from head to toe just as all sensations went dead. Finding himself lying on his bed, he sat up really pissed off. His equipment was seriously expensive and obviously fried, consequently terminating the virtual game saga "Survival Earth". Just before he got to kill the alien bastard!

From his subway seat Zane spotted a rarely seen plastic penny face up on the train floor. Today's penny existed only to make exact change for those who still stubbornly transacted in physical money. Picking it up he angled the light weight coin in his fingers to see the 3D animated virtual head of Abraham Lincoln. He noted the year on the coin 2053, the year he was born.
Today most commerce was done in virtual currencies not real cash. Getting off the subway he went through the ID sensors to street level. It was raining heavily outside and he had no umbrella with him. His clothing automatically becoming more water resistant and a hood extended itself out of his collar. He pulled it over his head and grabbed the first hydrogen city bus across town.
The bus was auto-driven and strangely empty of passengers. Stopping at his destination, Zane swiped his damp green bangs out of his eyes. Walking under the sheltering entrance of The Palace of TechJunk he thought to himself he would not be out in this real weather if not for his fucked up VR gear. He noticed an old fashion window display.
Beat up historical technology filled the grimy windows; a wearable Access Chip, Smelly-phone accessories, GPS Glasses, peculiar looking household robot attachments, and a Vexorg with a complete set of shrink-wrapped erotic adapters still in the shinny original box. The rest of the historical tech he didn't recognize. A small sign said, "Need Nanotech?", and a cheap LCD sticker on the window flashing, "We Accept Cash Here".
He remembered his history. The Vexorg unit was the first virtual reality sex gaming device over the Internet. Primitive by today's standards, but outlawed since the historic lawsuit for psycho-tech sex addiction. It was still surprising to see one of those in this shop window. "Better and safer with the real thing!" was the Vexorg company slogan stamped in large hot pink fuzzy sparklingly letters on the product box.
A sliding door with colorful cycling fractal patterns whisked open and Zane was hit in the face with dry warm air. Bach began to play through crackling speakers above. A crisp voice said, "Welcome Zane Max to the Palace of TechJunk. I'm the store AI Junkman. May I interest you in our store specials?"
Instead of answering Zane walked confidently forward and a second door slid open to reveal a virtual geek's paradise. Zane so distracted by the sight of gadgetry almost forgot how much he really disliked store AIs. "Customer AI over-ride, select a chipmunk voice. Interrupt only on request," he spoke with full consumer authority to the store AI.
"As you wish," was the AI's response in a squeaky high pitched voice. Zane chuckled to himself, it sounded like the AI voice synthesizer had inhaled a hit of helium, knowing it, the AI, would reset itself for the next customer. You had to put these smart ass AIs in their place from the start.
He reminded himself he was here looking for salvaged virtual reality gear with a standard protocol meta world interface for cheap. Local reviews said some deals could be found here. Walking around the store he noticed the place was a mess. Everything was on metal shelving rising to the high ceiling literally filled with VR gadgets, gear and components. There were black boxes, white boxes, game consoles, remotes all stacked on top of each other. Helmets, gloves, eye glasses and goggles, strange looking body suits, all sizes and shapes. Everything was packed in so tight with no wasted space. Some of it was hanging from the ceiling. There were walkways large enough for humans to squeeze through, but they were arranged in twisted and turning maze like fashion. The store itself was not that large, but held as many items as one twice its size.
This was impossible, obviously the work of some crazed AI inventory intelligence. No human mind would have ever organized this place. Damn, he was going to have to talk to this store AI after all. "Junkman!" he yelled with authority. "What are you looking for?" it asked in the silly chipmunk voice. Annoyed, Zane restored the voice to its original store default setting. "I need a super fast programmable suit with visual contacts, auditory and tactile sensor interfaces using the hyper-parallel feedback capability standard protocol meta-38U, must be ultra-light weight and have unrestricted mobility. Low price is my priority," he said.
"The only thing that even comes close to those specs is a Research VR prototype unit I have in stock, Are you interested?" asked Junkman. "No other options?" Zane inquired. "None on the planet for that price. There is a unit on Luna, needs some repair work, but I could fix and delivery within the week, but it would be expensive getting it here," replied Junkman. "No. Show me the prototype unit."
He was then startled by a slim yellow service robot, which activated itself coming out of a nearby alcove filled with cleaning supplies. Making a whizzing-clicking sound, the robots multi-directional telescoping eye stock rotated quickly side-to-side then it shot off, disappearing around a corner into a maze shelving. The robot returned carrying a single item in each of its manipulators. One was a stretchable translucent plastic skullcap, which looked similar to a swimmers cap. Jason reached out and took it. It was lightweight and lined inside with a circuit film of room temperature super-conducting nano fibers.
Zane pulled it over his head, it snap fit comfortably. He then looked around for the goggles or contacts, earpieces and body suit in the remaining arm of the robot, but found none, only something that looked like a medical syringe. "Where is the viewer, audio buds and all the remaining body wear?" Zane asked thinking the setup was incomplete. "It is not needed with this unit. You can access full sensor HDVR without a suit. This prototype is very advanced, interfacing directly with your brain's visual, audio, and sensory cortex. The VR cap is only needed for initial calibration and uses injectable nano probes," informed the store AI.
He looked again at the syringe in the other robot manipulator. "I understand, but doesn't this usually require a medical appointment?" Zane asked a little suspiciously. "Not needed. It's an advanced research prototype, one-of-a-kind and never made it to commercial production. The project was shelved after the parent company, Vexorg, lost the trial. Everything was eventually sold to me for surplus after the founder liquidated. I can sell it to you for a really good price?" explained Junkman. That also explained the sex gaming attachments in the store window, thought Zane. "This isn't loaded with viral ADs, is it?" Zane asked. "No. Viral advertisement routines were never developed for this unit," assured the AI.
"Well okay. But, I can return it if I don't like it right?" he asked. Junkman agreed and he left the store with the cap still on his head, syringe in pocket. His virtual credit account much depleted.
At home in his cramped studio apartment, he got undressed, took a shower, toweled off, put the cap back on and lay back naked in the bed. He read the only instructions provided in a very small font on the nano-syringe, 1. Place Cranial Interface Cap on Head. 2. Press Syringe Firmly Against Carotid Artery. 3. Sleep. Zane felt a mild sting and heard a hiss as he pushed the needless nano-syringe against his neck. For a moment nothing happened and he began to worry he might have been ripped off, or even much worse "tech poisoned". Then suddenly he began feeling very dizzy and sleepy at the same time, before worrying too much further, he lost consciousness.

Dr. Xanoplatu, an alien anthropologist and historian time traveler, materialized on stage wearing the body of his ancestors, a giant green Praying Mantis with large yellow eyes and small black pupils. He was speaking at the intra galactic cultural lecture, inside a delocalized spherical space station, somewhere and some when in this multiversed space-time reality.
To a far less technologically evolved civilization such as ours, the space station was a true paradox of causality for each of the alien species presently within is walls could not have possibly existed in the same time branch. Many were extinct and others had yet to evolve, or never would in the frothy quantum foam of this specific bubble universe.
As overlapping multiverses do, they happily entertained all possibilities influence everything, and nothing, all as long as you have the huge energies and advanced systems needed to maintain the paradox. This space station harnessed its power from an artificial wormhole traveling back to the original bubble singularity, drawing massive energies from a version of the big bang in a series of multiverses proceeding this one that never spawned life.
The doctor looked around with hyper-view eyes and launched into his-her presentation with no introduction, which was generally customary of it's (his-her) insect species. Galactic Civilizations take time to form and Alien Civilizations come and go. Some star systems, although more rare, foster the evolution of more than one intelligent species. The technology of alien races varies greatly, but generally goes through a range of three basic types.
Dr. Xanoplatu's clicking language seamlessly translated into each of the different languages of the various species attending. The audience was an attentive assortment of Type 2 beings, each having arrived at the seminar via galactic wormhole transportation network. In the space nearby an image materialized showing a rotating 3D Milky Way galaxy in early formation. The image was also transmitted into the minds of other beings without eyes and notated in the infrared and ultraviolet spectrum.
However, most civilizations tend to advance with each milestone; invention of language, use of tools, agriculture, architecture, industry, computers, rockets, self-directed genetic modification, nanoconstruction and so on. Each technological revolution leading to the next, building upon the foundations of the previous one. At this point the galaxy began showing data markers for pre-spaceflight intelligent life. A time bar scale displayed indicating the passage of billions of years ticking away as the galaxy evolved and quickly rotated. After about 3 billion years most of the markers representing alien civilizations appeared, scattered throughout the galaxy, they briefly pulsed, and then sadly vanished, becoming marked as extinct.
Another image appeared nearby and began to cycle through alien language symbols, stone and metal tools, and then building structures of all kinds. The doctor continued without interruption. Near-type 1 beings usually have intra-solar travel between nearby planets or moons, have constructed space habitats, and may even be attempting interstellar travel to a nearby star. Around this time a massive convergence of technologies leads to a point beyond which maximum change and advancement is so rapid it becomes highly unpredictable as well as unstable. Unfortunately, as all aliens in the room were aware, this time is a very dangerous one for a young species. Many civilizations self-destruct under the pressures of the constantly accelerating technological progress, or sometimes, with a little luck the civilization reset without significant environ damage.
The cycling images began to change into spacecraft of all types and shapes. Then space habitats and colonies, followed by space weaponry. Violent images of space warfare soon followed. Almost half of the remaining markers began to flash and winked out. The images changed to those of dead worlds, and finally the bones or shells of strange aliens. There were some murmurs from the audience and a definite roar from one of the Dinosaur like species, but Dr. Xanoplatu continued. He-she had provided time for questions following the lecture.
In order to survive an approaching singularity and remove their aggressive and self-destructively evolved behaviors, some alien species enter a transitional phase, an extensive program of self-initiated genetic re-engineering. The doctor paused a moment for the effect, taking a sip from a refreshing water bulb hanging from his-her neck. Alien bodies were shown, Apes, Reptiles, Birds, creatures indescribable, all morphing, becoming more graceful or complicated, heads larger, eyes larger, and sometimes becoming part or whole machines. Very precious few markers on the galaxy remained. Images of aliens, many with artificial technological enhancements, complete cyborgs with overly large brain cases were shown, some of them representative of actual species in the room.
Dr. Xanoplatu indicated the presentation was over, and he-she would now entertain questions. "What is inhibiting the formation of galactic civilizations?" Asked the dinosaur from the Procyon A system. He was larger than most of the others, except for the atmospheric whale. "Let me answer that with an example analogy. Imagine a pond, a very big pond, one the size of the galaxy in fact. Now throw a pebble into that pond, and you notice waves forming, moving outwards from where the pebble impacted the water.
Now these waves are of course traveling at the speed of light, so that if you threw a pebble into the middle of the pond, it would still take a while for the waves to travel to the shores of the pond, the outer edges of the galaxy. If the waves where actually communication signals, and you threw a hundred pebbles into the pond at once, but dispersed them randomly across the pond, what do you think would happen?" Asked Dr. Xanoplatu. "The waves would eventually cross each other, and every pebble's waves would eventually meet each other to varying degrees of strength", answered the dinosaur. "So every alien race who wishes to communicate with every other can do so", stated Dr. Xanoplatu. "That's assuming they tossed pebbles into the pond at nearly the same time," explained the dinosaur.
"Yes, now you see. If say, one of the civilizations tossed pebbles into the pond yesterday, or maybe even a million years ago, or millions from now, and you tossed yours in today, those waves would never really cross each other. Communications would never occur." The doctor's voice seemed satisfied with itself. "Formulation of a common galactic empire requires that multiple alien species exist concurrently at the same time to achieve a lasting galactic interchange. Most species go extinct too soon, some maybe in less than a million years after achieving a rudimentary technological civilization. My investigative archaeological evidence suggests a galactic civilization may have tried to formulate several times within the last 5 billion years."
"Why not send a timed message or time visit the species, and make our presence known before the extinction singularity actually occurs? That way we could avert their course through evidence of our own presence, asked the hive bacterial mind. Dr. Xanoplatu thought for a moment before replying, "We have tried this approach. It did not always meet with positive success, in some cases the target species self-destructed even more quickly than our original prediction, sometimes taking our own researchers with them. Our analysis is inconclusive as to exactly why.
No, we must let events take their natural course. It is safer to only directly intervene after the extinction singularity has occurred, through the use of reverse reality simulation we salvage what we can."
"Self-evolve you stupid beings, mature or perish forever," hissed the snake-like creature from Gliese 876 out of his turn. The doctor ignored the rude outburst.
"So to summarize we are evaluating each extinct alien species case for resurrection individually, as many of you in this room are aware," said Dr. Xanoplatu clicking insect pinchers, abruptly signifying his-her primitive excitement, and the end of all questioning.

Up Ahead: Virtuality series continues with a "Resurrection", we enter more realities, Zane and AI Junkman finally meet the alien Dr. Xanoplatu!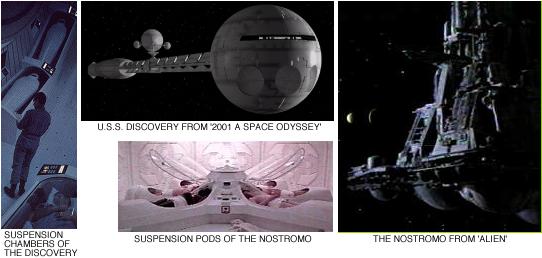 He awoke to a static beeping sound. It was so annoying, grating on his nerves more than a badly tuned alarm clock. He lifted his heavy eyelids to out of focus images. His vision slowly clearing, he realized he was inside a coffin like enclosure.
He reached up with his sluggish arms; they seem to be dead weights feeling as if all blood circulation had gone from them. Frantically shaking them awake he began to gain control of his arms pushing as hard as he could against what must be the "coffin lid" just in front of him.
He became quickly exhausted even after very little exertion letting his arms collapse lightly down to their sides in defeat. Frustrated he wasn't going to be able to push himself out of this thing. Not noticing any sort of latches or release switches, he forced himself to calm down.

His brain began to think rationally overriding his immediate panic. How was he going to get out of here? What was he doing inside? What was out there? Did he really want out? Maybe there was no air outside, maybe it was a space vacuum and he would die if he escaped. Maybe that's why this coffin thing wouldn't open for him, it was protecting him some how. But if it never opened it would become his coffin, how sadly ironic was his useless circular logic.
Now he noticed he was naked, and then he suddenly realized he didn't know who he was or even his own name. He couldn't remember anything about the past, but he was somehow sure he had one. That's when he realized that he was in much bigger trouble than being trapped inside a coffin like prison with no clothes in a space vacuum.
Now he noticed there was additional light coming through the walls of the coffin in sections to the right and left of his head with a curved square information display panel directly in front of his face. He touched the translucent sections to the right and left both coldly painful to touch, they felt like glass. These sections were fogged over so that any imagery he could see outside was distorted and blurry. He could barely make out a pattern of white ceiling lights some ways above.
His coffin prison was obviously in a large room, maybe a morgue for all he knew. Now he was just being morbid, he thought to himself. It was definitely very cold outside, and although the gravity felt light, there was some gravity, so he wasn't floating in the vacuum of space, or on a non-rotating spacecraft, but that's all he could really surmise of his present situation.
That's when the static beeping sound abruptly stopped, a blip appeared on the display panel in front of him. It read, "Zane", then faded to black. Again, "Zane, that is your name". He new it was the truth. That was his name, he was absolutely sure of it.
The text again faded to black. Then, "Your memories will come to you in time, be patient, there is no need for worry". The last message was spoken as well as written, a soft male voice coming through the speaker grills embedded inside the captive coffin walls. This obvious attempt to ease his fear seemed to work. He recognized that voice, but couldn't place it in his absent memories. "Who are you? Where am I?" he spoke the questions, his voice crackling like a damaged speaker, throat dry and all clogged up.
" Take it easy. Don ' t strain your vocal cords. My name is Junkman, an Artificial Intelligence and I'm your friend. You are waking from a long journey and I'm working to get the outside environmental conditions satisfactory for your emergence from the resurrection chamber."
Now he was confused, "Resurrection chamber? Was I injured in an accident?" Possibly even killed, thinking that would have explained a lot about his missing memories. Maybe his brain had been severely damaged. If so, he realized depressingly that this would be a very long and difficult recovery.
At least he was getting help. "Not precisely, and not to confuse you, but technically you were never alive my friend, myself as well. This is essentially our first birth. I guess I had better do some explaining, since it will take some time to get all the external support environmentals up and running. This place has been dormant for an extremely long time and I need to run some diagnostics first. I would have done it sooner, but you see I just arrived here myself, traveling in on a beam of light down a fiber optic cable into the central neural simulation computer for this facility. That computer just bootstrapped my AI persona."
"Junkman, not only can I not remember anything, I'm very confused by what you are saying. Maybe you should just start explaining from the beginning, assume nothing, and I will let you know if my memory returns", he suggested, playing the role of the practical amnesiac.
"Okay, well here goes . . . Lay back and let me tell you a whopper of a tale. We are now buried deep beneath the moon's surface in a Lunar Ark, or what is really a human species resurrection facility. Humanity has completely destroyed itself in an all out Nanowar over three thousand years ago. Alien beings traveling to our solar system have discovered our extinct remains. These beings are nano life forms themselves, which used our original DNA found within this dormant facility to create a computer simulated universe for reviving the human race. Follow me so far?" asked Junkman, wondering if he might be going a little too fast.
" No, not too fast. Does that mean I'm in a simulation?", wondering if he could believe or even trust this Junkman character and his wild story. "No, you're real this time. Originally you were a simulation, trapped inside a kind of virtual reality bottle. Playing out various life senarios so that your personality template could be constructed and finalized for your physical revival. Now, with the help of another more advance galactic alien, Dr. Xanoplatu, who is a kind of preying mantis anthropologist, we have both been able to escape."
"So there are more aliens involved? How did we escape our simulation?", admittedly this was beginning to sound even more unbelievable to him.
"This is a little difficult to explain, first let me start with some basics. The Fermi Paradox and Drake's equation", said Junkman.
"I understand those. The Fermi Paradox is about why we humans have not recieved any communications from aliens in deep space even when the possibility of intelligent alien life is almost certain, and if what your telling me is true, it is. Drake ' s equation is a formula for estimating the number of intelligent alien civilizations in the universe, correct?"
"Right," Junkman's voice seemed satisfied with itself. "Now assume that alien species go extinct before they can communicate with each other, or develop the technological ability to factor out the time dimension. That is, be able to time dilate or time travel, without incurring causality paradoxes. Say maybe one could use this technology to establish a way to communicate with us all, irrelevant of whether we were extinct or had yet to even evolve technology."
"So one set of aliens, The Nanos, revived us in a simulation, and another more advanced alien, Dr. Xanoplatu helped us to escape that simulation. This resurrection facility, or Lunar Ark, was from before the original Nanowar that destroyed all of the original humanity, and it has brought me back to life?"
"Yes, you were grown from a DNA template and you memories transfered from a simulation as your brain was developing. Simple and very clever you see?" summed up Junkman. "Looks like your environmental is up now, let's get you out of that coffin. Oh and Happy Birthday Zane!"
"Thanks Junkman."
No feedback yet