Video Mashup # 2 - 2010
By admin on Mar 22, 2010 | In Welcome, Human Survival, Virtuality, Technology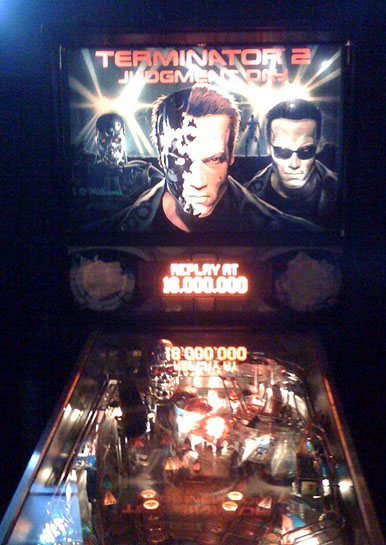 Terminator 2 Pinball Machine
The purpose of the site is to entertain around science fiction ideas and stories, speculate on future technologies and their effects on humanity, and to get us all thinking a little out of the box in this tough and challenging time.
Time for another video mashup. Only this one is a little bit more crazy-scary or certainly more out there than the last. This one is about long term human survival and our perception of reality.
First a DISCLAIMER: All these videos speak for themselves. They do not necessarily represent my specific viewpoints or beliefs (those would be videos by me). Nor do they criticize those persons in the video or make any judgment on their viewpoints. I'm not even saying they are true or false, but they are certainly fun to watch and listen to (at least I think so) and that's really my purpose here!
We are all the product of millions, if not billions of years of evolution, so I leave it to you to make up your own mind about what to believe or not . . . and where you want to go. However, please come back here once in a while to read my blog, I'm trying to keep it fresh, entertaining, as well as informative. Not an easy balancing act.
-Michael Blade, March 23, 2010
Technology Singularity
Transhumanism

Reality

Parallel Universes (the fictional definition)
No feedback yet