The Day The Earth Stood Still
By admin on Dec 5, 2008 | In Welcome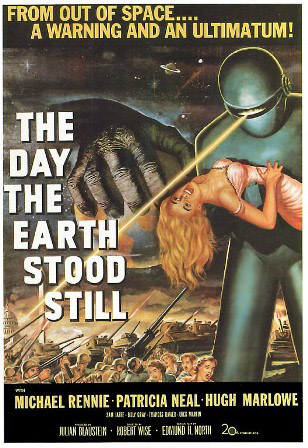 Some current news . . . here is a link to a nice interview of Ray Kurzweil by silicon.com, whom I had the pleasure of meeting very briefly in person at the 2008 Singularity Conference in San Jose, CA.
Also recently I have been working very hard at creating a new virtual world call Viradu.com with a blog / vlog (video log) and instructions for downloading and installing the necessary software (Client Virtual World Viewer), a browser for viewing virtual worlds of the opensimulator.org variety (open source code derived from SecondLife.com).
Hollywood has a Christmas present for you! Its the releasing of a re-make of "The Day The Earth Stood Still", with Keanu Reeves in it. I'm excited, since this is one of my favorite old time black-and-white science fiction movies from late 1951. I hope they stay true to the original 1951 movie or maybe you would enjoy reading the original short story, "Farewell to the Master", by Harry Bates.
Happy Holidays to you all, and I should be setting up a holiday scene in Viradu, as well as transferring copies of the Science Fiction Cafe from Second Life. So if your interest and have some time during this busy season, check it out. . . Viradu.com
Now after shamelessly plugging myself twice in this post, how about a little science fiction blogging you say! . The beginnings of an idea for a story below. Since I have been laid up after knee surgery (no little nanobots to repair my knee just yet!) and the virtual world launch, I haven't had much time for this blog. My apologies to my readers, so here are a few paragraphs of some background material I began writing just recently. Not sure were I'm going with it at this time, but your welcome to comment and help guide me with some ideas of your own.
===================================================
The TransHumortals
Humans had become immortal. Many well respected critics questioned whether we were still human because of it, their sound voices and reason ignored.
We had gone so far as to make copies of our appearance and mannerisms in machines which could host organic neural networks, our fleshy meaty brains transported around inside titanium steel bodies covered with beautiful tank grown artificial skin.
People had begun opting for nano components and robotics implants for life extension, and there seemed to be no downside or limit on its potentials. Even our societies attitude had changed, adapted when faced with the inevitable grim reaper.
Thus the cyborgs were born. Technology was becoming more affordable all the time as various extension plans came with higher tax brackets and health triple-life-plus coverage. However many could not afford it just yet, unfortunate souls still died under general health quality plans.

There were a very few, who turned away from the technology, and even organized and rebelled against it . . .
-Michael Blade

No feedback yet