EDITORIAL: Faster Than Lightspeed Possible!
By admin on Aug 13, 2008 | In Welcome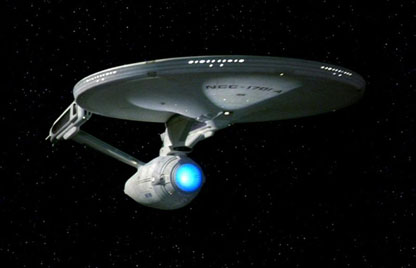 Looks like a science fiction writer, in this case Gene Roddenberry, got it right again! But not to give him all the credit, many others predicted faster than light speed (FTL) travel as well.
String Theory, specifically M-Theory allows for the possibility of FTL via a Alcubierre Drive.
More information in this article from space.com.
Scientific paper with all the mathematics (in case you want to build your own warp drive now, instead of waiting... if you understand it) is here.
Does that mean all those UFO's we keep seeing are real? Now there's a thought, may be we should ask them how to build a FTL craft and get a leg up on what looks like a serious development project. Oh, don't expect to zip off to the nearest star system any time soon, it requires the entire energy of the planet Jupiter to move 33 feet! (but then may be not, only 3 grams of anti-matter).
So I guess I still have a job as a Science Fiction Writer for a little bit longer, but honestly I wouldn't mind being put out of work, if it really meant FTL in my lifetime.
No feedback yet