Sneeze!
By admin on Dec 14, 2011 | In Human Survival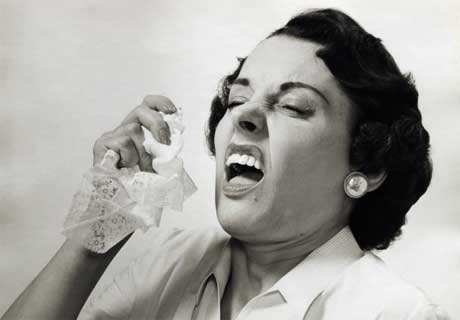 Story by Michael Blade, © Copyright Dec. 2011, All rights reserved. No duplication without express permission. Networked Blogs
It was cold that New York City morning and he could see his warm breath on the air as he walked the crowded sidewalk. Lots of people passing by, forward, and back on his way to the pawn shop. He couldn't help but notice the beautiful long haired blond while she was waiting at the crosswalk to the right of him.
She was holding a rather large and thin attache case, an expensive designer brand, and wearing a long fur lined red coat and sensible boots. She kept looking back, behind her. Her glances wary, as if she expected someone was actually following her. Then she seemed to relax and noticed him looking at her out of the corner of her eye. She turned slightly and smiled. Then the crosswalk turned walk, a mass of people began crossing along with them.
They walked along side of each other for a while, both noticing each others presence, but neither making obvious acknowledgment of it. He noticed she was slightly taller than him, if you counted the heel height of her boots.
He thought maybe he should say something, but what? His shy upbringing having ill prepared him for a social encounter outside the cultural Indian norms. Then before he could figure out his move, she was gone in a yellow red coat blur. She went sharply left across his path up to some technical-legal corporate building structure.
He stopped and watched her go, with a sense of immediate loss as someone nearly ran into him from behind. He thought to himself, he should have made his move. Then a miracle happened, just before she entered the building entrance she stopped, slowly turned back to look at him, smiling again.
She just stood there looking at him for a silent moment. Inside her mind she thought . . . seven hundred threads of query ran in the cloud and came back with the answer yes! He recently has purchased a ticket to India. She liked him, he was handsome, smart and kind, she needed a working vacation. Took the empty seat next to his.
Something in his nature said, go, go talk to her you idiot! To his own amazement, he did. She moved aside slightly to let others go in and out of the buildings entrance, but she clearly was waiting for him to come to her. No problem. As he got closer to her, he became more nervous, if that was even possible. This woman is way out of your league, don't blow it, he advised himself mentally.
When he got to her, she surprisingly pulled off a glove, offering her milky white hand and said, ?My name is Kay Noble?. ?Hi, I'm Rajeev Patel.? ?Its an honor to meet you Rajeev.? He was surprised and confused by her response. ?Thank You Kay,? He smiled a little too happy-goofy. ?Well, I've got some business here,? she said. ?But maybe we could meet for lunch, say in Chinatown later??
She was still holding his dark caramel hand in hers. He was in mental shock from her bold forwardness, trying to collect his response when suddenly she sneezed directly on him without covering. He was completely sprayed by her sneeze. ?Oh, I'm so sorry! How embarrassing, please be sure to wash your hands,? she apologized. But somehow strangely it seem almost that she had intended to do it.
Either way, still trying to act cool about it, he said. ?No problem, I'll wash them before lunch, let's say the Jade Lantern? At 12:30??
After a short pause she said. ?Yeah, I know that place,? ?It's a date then, menu is affordable and I'll be buying.? ?No, I'll buy.? He tried to insist. ?Don't worry about it, I sneezed all over you, its the least I can do. Maybe you can buy me dinner another time, I've really got to run to my meeting, I'll see you there.? Smiling and with no further interaction she turn and went straight into the entrance.
Rajeev stood there a little dazed. Beautiful woman asks him out on a lunch date and sneezes on him, apologizes and then runs off. Looking forward to lunch, if she showed up, having no idea he was infected, rather than infatuated; with something that would change his life for the better; literally allowing him to live forever, if he so chose. He began walking again in the direction of the pawn shop business he owned, in less upscale blocks nearby, but not too far from the Jade Lantern!
Kay sat in a room walled by display screens at a real mahogany wood desk across from a man who was a scientist engineer and a patent lawyer. On the screen where electron microscope images of a virus, enlarged brain neurons, scores of DNA sequences, cell tower and cell phone chip electronics, on the table itself detailed schematics and hardcopy printouts of Scala Java software code. On a small velvet pad, sat a piece of silver jewelry with a strikingly peculiar stone and emblem.
The engineer spoke, ?Dr. Nobel, What you have shown me, what I see here before me, I considered to be nothing less than revolutionary technology. This leaves smartphones in the dust, like talking through a couple of cans on a string.
No one, and I mean no one, has every combined so many different modern fields of science, technology and communication infrastructure into a coherent functioning whole, drawing upon so many different complex disciplines. If I didn't know better, because this solution uses existing technology we have today in a new and radical way, I might even go so far as to say it was alien influenced.
Please take no offense, but its not possible that you yourself could have come up with this suite of patents alone. Even given your impressive background and credentials. This rightly should have taken several engineering and scientific teams decades of work and testing to complete and perfect.
"But more importantly,? he picked up the ring from the velvet, moving it now close to his face to study the emblem. ?Does it actually work?? He tried it on, it fit perfectly on his left pinky. Not a finger he would have chosen.
?Mr. Anderson, no offense is taken. I assure you the prototype works and this was a collaborative effort by some of the most brilliant minds in their respective fields, including my own, and we, the group who trusts me to represent them, still wants these patents filed. After all, that is why I am here today sir.? Kay spoke directly and to the point. To conclude that this solution is alien technology is, well, what can I say? Just laughable . . .
Maybe that was the point? . . . the scientist-engineer-patent lawyer thought to himself. "The impact of this technology alone, not to even consider subsequent technology spin-offs, would profoundly impact our modern age and the very nature of humanity itself. To have controlling interest in such patents would make you, possibly within only a few years, the most powerful woman on the planet,? he stated as a matter of fact.
?I know. We have researched you well Mr. Anderson. Will you help us?? she asked.
?The fees will be large to protect such valuable patents, and it will take an army of lawyers . . . I'll expect one of the devices for myself,? he replied.
?Agreed, money is of really no concern now,? was her reply. Then she sneezed across the table at him. ?Take the ring. It is yours, ? she said.
?How long does the virus take to integrate?? the engineer asked.
?A few days Mr. Anderson. Don't worry, it's a positive virus, I'm origin zero. Then you'll be one of us, welcome to the new global hivemind, we-I always choose well. It will be unlike anything you have ever experienced or imagined. Expect a mental call, anything will be possible, said Kay, a future echo ...? Kay Noble replied, then collected the documents, velvet and all, and left the room without a further word.
Rajeev made it to the pawnshop opening the lock and then push up metal doors to the shop, the front shop door, the lights, setup the cash register and greeted the first customer looking for a used guitar for his kid. The rest of the morning was uneventful and there in the back of his mind all along was his lunch date.
He then thought he knew nothing of this woman, sure she was beautiful and forward, but what else did he know about her? She could be a lawyer, fashion model, law enforcement, secret agent, serial killer, anyone at all. Google and Facebook Kay Noble, New York, picture, age say 35-42. Maybe he would find something. To his surprise she had a Wikipedia entry, she was big time, which only made him more nervous about lunch.
Behind him on the wall, his only selfless act and claim to fame, hung the symbolic key to the city award by the mayor himself. He had saved several persons from a burning building years earlier and still had the scars on his chest because of it. He had nearly died that day, having suffered months in a burn ward and it had been in all the papers, Internet and on the news. Then he thought, what could she see in him?
Then he thought, she would be the perfect lover for him and drifted off into a long day dream before lunch . . .
Peace and Love to ALL
Please note the author MBlade was just having a little fun: In the science fiction short story above Google, Facebook, Wikipedia, Java (Oracle), Scala are respectable trade names and trade marks for their corresponding corporations and in no way constitute component parts of alien technology, or for that matter, technological telepathy as implied. Please just sneeze and let it go . . . consider it a holiday gift to humanity. MATERIAL REFERENCE, Future probability high: carbon nanotube transceiver and Internet Influences the Fabric of Society and Inventing Science Fiction
No feedback yet