Living in a Science Fiction World
By admin on Feb 26, 2009 | In Welcome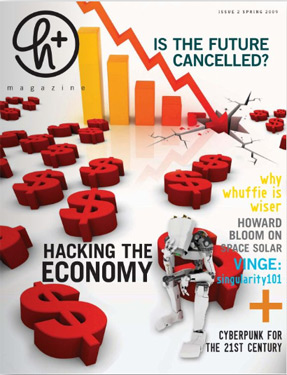 Here's the new H+ Magazine for this Spring 2009
We all find ways to deal with the crisis of global economy; from emotionally supporting our friends and family who receive pink slips; to finding ways of tightening our own belts and save a little more (while simultaneously paying off those credit cards). We may pay a little more at the grocery store, a little less at the gas pump.
I myself seem to focus less on the really big questions I use to ask myself. Are we alone in the universe? What is the purpose of humanity?
These questions, and whether this economic down turn will in some way slow the release of CO2, hence slow the rate of global warming and give us precious time to set a new course to renewable energy technologies, or ultimately stall The Singularity itself. I certainly can't tell you.
Could it be that the planet as a whole, "Humanity-Internet-Earth-The-Collective-Emerging-Intelligence", thinking on a new global world-wide-level, reacting to our planets rising fever by taking some metaphorical "ECONOMIC COLD SHOWER"? No, that would just seem too crazy right? Well maybe I'm not. Others are thinking along these lines as well.

Meanwhile my science fiction virtual world keeps crashing, while simultaneously being vandalized by rebel avatars! Nothing really seems quite normal to me, because at the moment I write this, it seems like I am living in a science fiction world, an overpopulated and poorly allocated world.
Humanity (my definition): A struggling and hopeful new species trying to survive and understand their fellows on the third planet orbiting their common yellow star, as it slowly turns in a spiral galaxy while the universe rapidly expands, all the while being possibly observed by other hidden aliens? To our hopeful and triumphant survival, the arrival of variant post-human species to nearby moons, planets and stars.
-Michael Blade

No feedback yet