SHORT STORY: Resurrection Birth
By admin on Jun 14, 2008 | In Welcome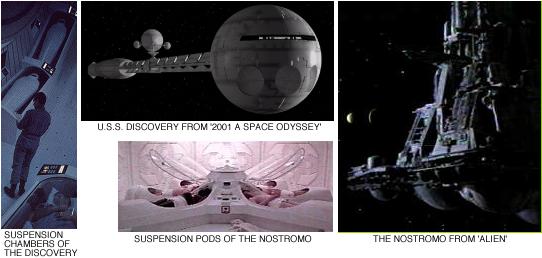 Death and Time Traveling
There are some interesting points in this article I found on the web, its titled "Death and Time Traveling", by Jim Walker. I'd would like to bring it to your attention.
Meanwhile, back at the ranch.... I have written an introductory chapter called "Resurrection Birth" here in the blog for a short cut way of jumping into the book... It has a lot of similarities to freezing... Enjoy.
===================================
Resurrection Birth
Jason awoke to a static humming sound.  It was so annoying, grating on his nerves more than a badly tuned alarm clock.  He lifted his heavy eyelids to blinding light, and out of focus images.  His vision slowly cleared and he realized he was inside a plastic coffin thing.
He reached up with his sluggish arms; they seem to be dead weights, feeling as if all blood circulation had been cut off for quite a while now.  Frantically shaking them awake, he began to gain control of them, pushing as hard as his weak arms could against the coffin lid just in front of him.  He became quickly exhausted even after very little exertion, letting his arms collapse lightly down to their sides in defeat.
Frustrated he wasn?t going to be able to push himself out of this thing.  Not noticing any sort of latches or release switches, he forced himself to calm down.  His brain began to think rationally, overriding his immediate and built-in panic fight-flee response.
How was he going to get out of here?  What was he doing inside here?  What was out there?  Did he really want out?  Maybe there was no air outside, maybe it was a space vacuum, and he would die if he escaped, that?s why the coffin wouldn?t open for him, it was protecting him.  But if it never opened, maybe it would become his coffin, how sadly ironic.
He noticed he was wearing no clothes, and then he suddenly realized he didn?t know who he was, even his own name.  He couldn?t remember anything about the present or about the past, but he was sure he had one.  That?s when he realized and worried that he was in much bigger trouble then being trapped inside a coffin naked, possibly in the vacuum of space.
He noticed there was additional light coming through the walls in certain sections to the right and left of his head.  The light he had originally seen was internal illumination, on a curved square panel directly in front of his face.  He touched the translucent sections to the right and left, they were both cold and painful to touch, unlike the other areas of the inside enclosure, they looked like glass.
These sections were fogged over, so that any imagery from outside was distorted and blurry of detail.  He could only make out a pattern of white ceiling lights some ways above.  His coffin was obviously in a large room, maybe a mortuary, or even a morgue, for all he knew.  It was very cold outside, and although the gravity felt light, there was some gravity, so he wasn?t floating in the vacuum of space, or on a non-rotating spacecraft, but that?s all he could really surmise of his situation.
That?s when the static humming sound abruptly stopped, a blip appeared on the dimmed light panel in front of him, which must really be a screen.  It read, ?Jason?, then faded to black.  Again, ?Jason, that is your name?. 
He new it was the truth.  That was his name, he was sure of it.  The text again faded to black.  Then, ?Your memories will come to you in time, be patient, there is no need for worry?.  The last message was spoken as well as written, a soft male voice coming through the speaker grills embedded inside the captive coffin walls.
This obvious attempt to ease his fear seemed to work.  He recognized that voice, but couldn?t place it in his absent memories.  ?Who are you? Where am I?? he spoke the questions, his voice crackling like a damaged speaker, throat dry and all clogged up.
?Take it easy.  Don?t strain your vocal cords.  My name is Junkman, an AI and I?m your friend. You are waking from a long journey and I?m working to get the outside environmental conditions satisfactory for your emergence from the resurrection chamber.?
Jason was confused, ?Resurrection chamber?  Was I injured in an accident??, possibly even killed, Jason thought that would have explained a lot about his missing memories.  Maybe his brain had been severely damaged.  If so, he realized depressingly, that this would be a very long, and difficult recovery.  At least he was getting help. 
?Not precisely, and not to confuse you, but technically you were never alive my friend, myself as well.  This is essentially our first birth.  I guess I had better do some explaining, since it will take some time to get all the external support environmentals up and running.  This place has been dormant for an extremely long time.  I would have done it sooner, but you see I just arrived here myself, traveling in on a beam of light.? 
?Junkman, not only can I not remember anything, I?m very confused by what you are saying.  Maybe you should just start explaining from the beginning, assume nothing, and I will let you know if my memory returns?, suggested Jason, the ever practical amnesiac. 
?Okay, well here goes . . .  Lay back and let me tell you a whopper of a tale.  We are now buried deep beneath the moon?s surface in a Lunar Ark, or what is really a human species resurrection facility.  Humanity has completely destroyed itself in an all out Nanowar.  Millions of years have passed and alien beings traveling to our solar system have discovered our remains.  These beings are nano life forms themselves, which used our original DNA found within this damaged facility to create a computer simulated universe for reviving the human race.  Follow me so far?? asked Junkman, wondering if he might be going a little too fast. 
?No, not too fast.  Does that mean I?m in a simulation??, wondering if he could believe or even trust this Junkman character and his wild story. 
?No, you?re real this time.  Originally you were a simulation, trapped inside The Nano?s virtual reality bottle.  Now, with the help of another more advance galactic alien, Dr. Xanoplatu, who is a kind of preying mantis anthropologist, we have both been able to escape.? 
?So there are more aliens involved?  How did we escape our simulation??, admittedly this was beginning to sound even more unbelievable to Jason. 
?This is a little difficult to explain, I think I?m going to have to try something a little different here, maybe an analogy.  Imagine a pond, a very big pond, one the size of the galaxy in fact.  Now throw a pebble into that pond, and you notice waves forming, moving outwards from where the pebble impacted the water.  Now let?s suppose the waves are traveling at the speed of light, so that if you threw a pebble into the middle of the pond, it would still take a while for the waves to travel to the shores of the pond.  Now, if the waves where actually communication signals, and you threw a hundred pebbles into the pond at once, but dispersed them randomly across the pond, what do you think would happen??, asked Junkman. 
?The waves would eventually cross each other, and every pebble?s waves would eventually meet each other to varying degrees of strength?, answered Jason. 
?Great, so every alien race, represented by a pebble tossed into the galactic pond, would eventually be able to communicate with every other?, explained Junkman. 
?That?s assuming they all tossed pebbles into the pond at the same time,? stated Jason.
?Yes, now you are beginning to see.  If say, one of the aliens tossed pebbles into the pond yesterday, or maybe even a million years ago, or a millions from now, and you tossed yours in today, those waves would never really cross each other.  Communications would never occur, because you never took into consideration the dimension of time.?  Junkman?s voice seemed satisfied with itself. 
?You?re talking about the Fermi Paradox and Drake?s equation?, said Jason.
?Yes, I am.  Assume that alien species go extinct before they can communicate with each other, or develop the technological ability to factor out the time dimension.  That is, be able to time dilate, without incurring causality paradoxes.  Say maybe one could use this technology to establish a way to communicate with us all, irrelevant of whether we were extinct or had yet to even evolve intelligence and technology.? 
?So what your saying is one set of aliens, The Nanos, revived us in a simulation, and another more advanced alien, Dr. Xanoplatu helped us to escape.  This resurrection facility, or Lunar Ark, was damaged in the Nanowar that destroyed all of the original humanity, and we have repaired it to bring us back to life.  Sounds simple,? summed up Jason. 
?You got it,? confirmed Junkman, ?Looks like your environmental is up now, let?s open your coffin?.
If your interested, you can read more of Jason't story free in The Transhuman Singularity.

As an experiment, if you would like to support this author so that he may write further blog entries like this one; check out some of the advertisements that interest you in this blog.

-Michael Blade
1 comment
You got great honest points here. I done a search on the issue and learnt most peoples will agree with your blog.
02/28/10 @ 14:58