"Moon" the Science Fiction Movie
By admin on Jul 8, 2009 | In Welcome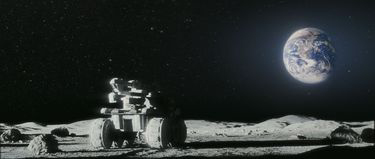 http://www.sonyclassics.com/moon/
Their is a new movie out call "Moon" which I recommend watching before it leaves the theater. Some critics think it is too slow with not enough action, but what do they know about good science fiction with a real story.
Admittedly Moon is all those things, as well as lonely. However, I found myself thinking about the movie days after watching. For me that means I really liked it.
I won't tell you what happens, since there are enough reviews out there to tell you that, but if you like thinking science fiction, just watch it. I would say this is similar to other psychological science fiction such as "Solaris". So if you liked that one, you'll probably like "Moon".
Outer Space can be a lonely place, even the dark side of the moon, when you only have yourself and a robot as company.
-Michael Blade

No feedback yet