EDITORIAL: Life on Mars? Dead or Alive? Science Fiction???
By admin on May 25, 2008 | In Welcome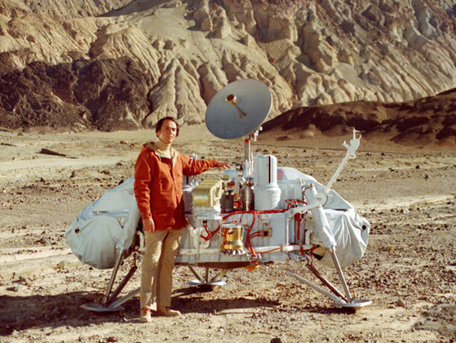 Science fiction writers have been imaging life on Mars for a long time now. To be quite honest, I hope we find it, dead or alive, and I suspect many others are hoping the same.
A recent landing by Phoenix, a NASA robotic spacecraft brings up the question again. The reason I say again, is because a lot of this is a repeat of the dual Viking Landers back in the mid 1970's (remember, Americans had just landed on the Moon many times, and we were ready for another challenge), a little over 30 years ago.
I remember as an excited teenager reading the paper day to day at the time (now it would be the Internet --yeah that makes me an old guy, not really).
I was hoping they would find life, thrilled to see the surface of Mars in pictures on the inside paper pages, exciting images transmitted back from the red planet. For me now, it feels like I've come full circle.
The Viking landers conducted biological experiments designed to detect life in the Martian soil. Cooking it up, the results were initially positive in one of the experiments and then negative in two of the others. Because of these conflicting results, most scientists became convinced the chemical reactions where from highly oxidizing soil conditions (ocam's razor --wrong I think this time). The question of bacterial life on Mars to this day remains at best both inconclusive and unresolved.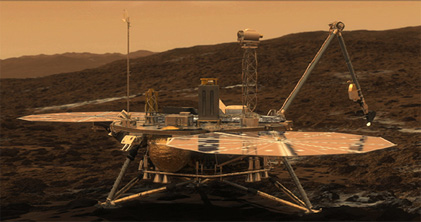 NASA is much more careful this time in their choice of wording they are using to describe the mission goals of Phoenix, but I can detect their excitement, they have another shot at it… and if not in this lander, the mobile laboratory to follow.
Toasting to the future possibility of life on Mars are, Carl Sagan, and Arthur C. Clarke, Good Luck!
Special recognition for The Planetary Society who sent a media disk to Mars, attached to the Phoenix by velcro for future Human-Martians to find.

*** Latest article to support possibility of life on Mars? My belief is life is more tenacious than we think.
*** Will NASA Ever Find Life on Mars?
1 comment
thanks,
03/26/10 @ 18:07