You Keep Reading and I'll Keep Writing
By admin on Nov 18, 2010 | In Welcome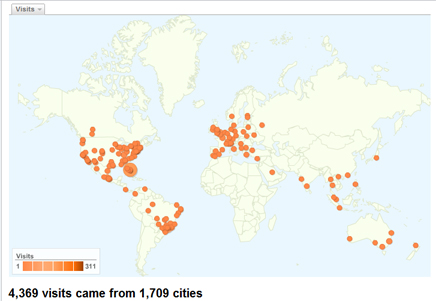 At least once a year I like to give readers a peek behind the curtains at some of the stats I get to view about you all. As you can see readership is up from previous years from 1-311 people per dot. Also by combining subjects of Transhumanism, The Technological Singularity and Science Fiction together it will potentially become more popular than ever, continually growing a little larger every year . . . I'm just holding out until it really gets out of control, having already entered the third year of blog writing!
As a small part time blogger I can't compete with say something like H+ magazine, and I really shouldn't want too anyway.
What I really want to say to you is I enjoy writing this blog, and seeing that you enjoy it too makes me feel its all worth it. So thank you for reading me. I know I'm talking to a aggregate of stats, not knowing your real human personality or your specific qualities, but at the very least, I know you exist. For me thats just enough.
-MBlade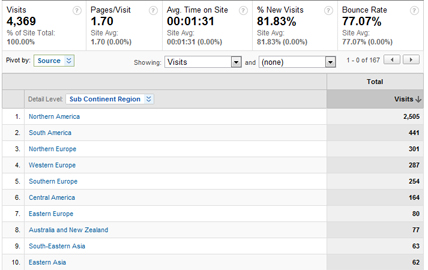 No feedback yet