A small node in the mind of the great Internet
By admin on Feb 12, 2012 | In Human Survival
Its nice to be able to report on the readership of this blog over the past few years. You see I don't make any money on this blog in advertisement or any other form. It is totally free and I give it up as a contribution to all who are willing to read my somewhat less regular posts. Yes it does promote me (at least my pen name, Michael Blade). However, I have yet to receive a single cent in revenue and I'm not really asking for any. If you are wondering then why do I do it? I would have to say because I love it. I love the small or great unknowable influence that I might have!
I also do not allow comments for a number of reasons. There are those who spam comments on a lot of blogs to drive traffic to their products and services for sales, even if they are not related to the posted subject matter. And then of course there are those who are too shy to post comments anyway, those that enjoy reading the flames of other persons comments, and finally those that have an expert opinion on everything even though they shouldn't. Its not my job to tell them so.
I don't have a mailing list which spams you regularly either. This is not to say I don't support social media and networking, I do. You can easily find my Facebook and other blogs and I allow for contact via the the contact above and other means.
That all said here is a graphic of the readership for 2011 and further back. That's not much you might say, but take it in context from what I said above.
Let me ask this then, when was the last time you influence 45,845 people even slightly? That does sound a little arrogant, doesn't it? Maybe it is . . . but this blog gives back to me as well in intangible ways. You will find some very original thinking in my blog. Its a win all around, and there are not that many things in the world you can say that about. I'm glad this is one of them and I really do hope you enjoy reading it as well. Just pretend I am talking specifically to you and I am.
If you would like to subscribe to this blog in your favorite reader click on the subscribe to this blog icon in the right column. Also in that column you can select from a long list of previous posts which are usually not too dated since they are subject matter futuristic in nature.
You'll also notice I am not perfect and try not to be, with lots of mistakes; since I am still human as you probably are as well!
Peace and Love,
Michael Blade, Science Fiction Blogger 2012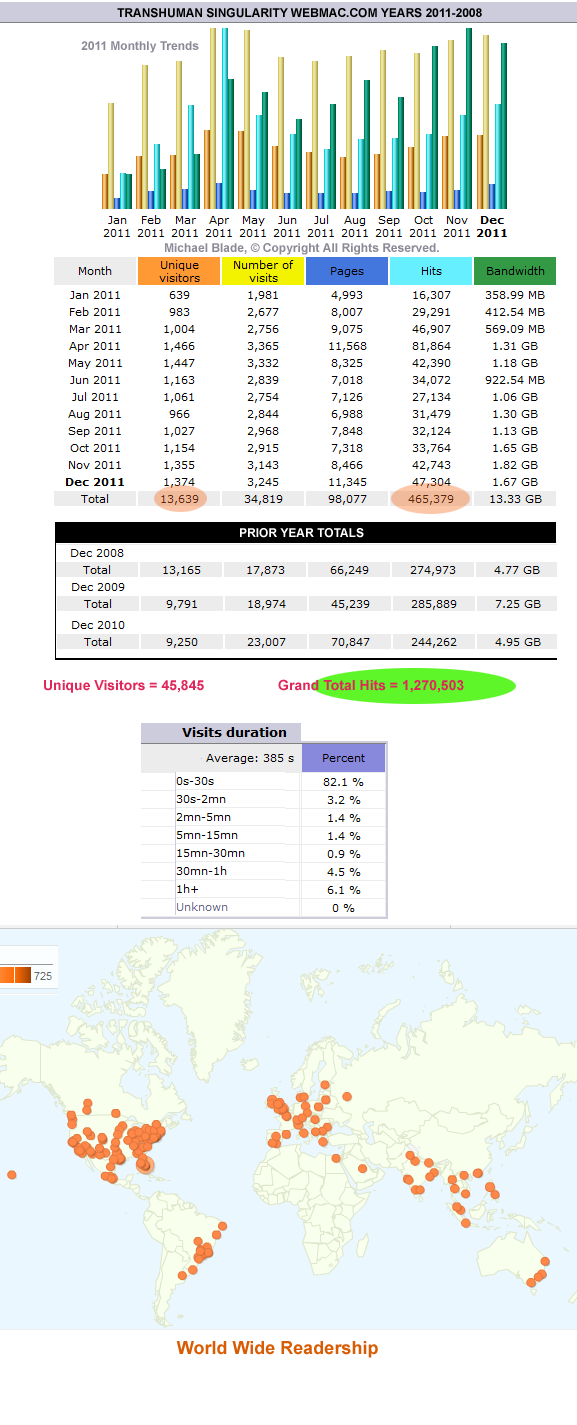 No feedback yet