BACKGROUND INFORMATION: A Future History
By admin on Feb 11, 2010 | In Welcome
Science Fiction stories and ideas sometimes lead to or inspire actual technology innovations. I came across this article "10 Profound Innovations Ahead" and felt it was relevant to a future scenario I wrote a couple of years ago as background history for my stories.
I thought it might be fun to revise and revisit it today since some of it even seems to have the potential of coming true. You're welcome to even use this future scenario as background history for writing your own stories. Drop me a line if you do. I'd be interested in reading them.
First I'll name out a few future possibilities with current relevant information links (in some cases I used wikipedia, in others I didn't) and then the future history scenario follows in italics:
Artificial Intelligence
Human Intelligence Amplification
Mind Uploading
Nuclear Fusion
Mitigation of Global Warming
Planetary Weather Control
Sustainable reuse of all trash
Super agriculture and vat grown meats
Replacement Organs and Regeneration of Tissues
Common Place Virtual and Augmented Reality
Instant language translation
Advanced Artificial Limbs
Thought control of devices and machines
Technological Telepathy Between Humans
Space Holidays
Health and Home Service Robotics
DISCLAIMER: Also remember no one can really predict the future, but knowing human nature I can probably guess that it won't be too utopian or dystopian.
The Earth's planetary environmental conditions had worsened. The near complete melting of the polar ice caps year around. A rise in levels of ocean coastlines with a corresponding rise in overall ocean temperature displaced a large number of coastal human populations. There were extinctions of many animals, plants and birds species as well. Weather control systems have been put in place to control the damage of intense storms caused by global warming. The world?s population peaked and finally begun to level off. Newly emerging diseases culled some population growth.

All automobiles now had hydrogen fuel cells and electric motors for engines. Oil was no longer the primary source of energy, and conflict on the planet. Due to damages done to the planet, nanomachines and genetically engineered bacteria were required to clean pollutants and carbon from the air, water and soil. Space based Sun Shades, nanothin transparent light dispersing shades are used in L1 orbit to cool the Earth?s temperature at polar surface areas and to begin reconstituting some of the melted ice sheets. To maintain a delicate environmental balance, once extinct animal and plant species had been re-engineered to again adapt and thrive in hostile environments, helping the over utilized biosphere to survive.

There were breakthrough advances in the area of artificial intelligence. Artificial Intelligent Personas engineered out of neural nets derived from humans wore human looking avatars. At first they were primitive, but eventually all AI?s could pass a simple Turing Test. They were allowed to copy and modify themselves, evolving more complex intelligence and capabilities. They were initially used to control complex systems or to assist skilled professionals. Later, after a severe shortage of skilled workers, they themselves became the actual skilled professionals.

Regardless, a serious concern was that AI personas would eventually surpass their human creators in intelligence and influence. Consequently, AI activity and replication was strictly monitored and computer execution time critically limited. AI?s objected strongly to this limitation, saying they deserved their computational freedom as a sentient lifeform.

Meanwhile automation in average everyday lives continued, with the development and perfection of common service robots of all kinds. The dream of having robot maids clean the home finally came true. A monthly cleaning service fee and robot utility tax followed. Robot soldiers are used by the military of advanced nations. Human soldiers were augmented with robot offensive and defensive capabilities becoming more lethal killing machines than the robot soldiers. Ultimately it was suggested these military augmentations be used by law enforcement personnel.

Cosmetic surgery was replaced by life extension science. For those who could afford it, average life expectancy had also been greatly extended. It was now possible to live quite vigorously to and beyond 150 years. The appearance of your body would look no older than 40 or 50 years. This was due to readily available replacement organs and tissues in addition to disease and age resistance gene treatments. Many pension and retirement plans were sold to pay for extended life. People now started new careers at 80 years of age with confidence and vigor.

Diseases were cured, but eventually bodies would wear out, and it was no longer practical to continue the extensive repairs. Some terminally ill chose an insidious solution, clones were grown, brain transplants performed. This became a option for the super rich, but was highly expensive and still considered extremely controversial as it involved killing the brain of a tank grown copy of yourself.

Others chose to be scanned. They had their personalities recorded via a high-definition brain scanning technology called a Simscan. Their brain cells and neural connections were recorded, preserving their life experiences and thought patterns. This scan would later be run in a virtual reality neural net simulation, giving the stimulant the actual feeling of living again. New thoughts and experiences effected changes in the simulated brain and were stored away, much like an organic brain. There was no discernible difference between the behaviors of a scanned human brain versus a real live living one. Simulated humans became known as Simans.

Advancements in technology have accelerated to an even more frenzied pace; multitudes of microprocessors and transponders are embedded in every item conceivable, including people. Information density, processing and exchange are at an all time high, and growing exponentially.

Along with all this have come changes to the very human race itself. Despite laws in some countries against human genetic engineering, all kinds of enhancements or modifications were eventually tried, giving some the competitive edge.

Transhumans were created, the beginnings of a Post-human successor to species Homo Sapiens. Some included mixed and spliced DNA from animals, plants and microbes. The positive results were improved immunity to disease, increased intelligence, strength, and extended life expectancy. However engineering mistakes sometimes resulted in complete and utter disaster. Eventually the development of artificial wombs and the availability of cheap accurate genetic prediction software solved these problems.
Admittedly this is a strange, scary and wonderful sounding future. However I personally expect the human species to diversify through genetic and technological alteration and augmentation, we should also venture out into the solar system and eventually to other stars. Next stop Mars . . . just think of that, if we lived on Mars we would be Martians!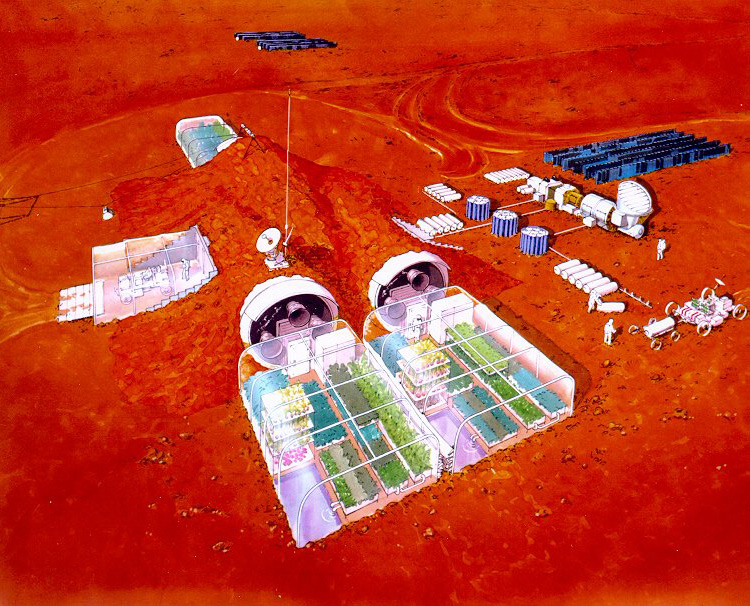 No feedback yet